24 December 2019
After the CD prototype system had been shown, demonstrated, and made public on March 8, 1979, it was essential for the directors of Philips Audio to find a strong industrial partner that would be interested in cooperating in attaining a common CD system standard. Consequently, the Audio directors approached several Japanese companies to ask if they would receive a delegation so that the Philips CD prototype could be shown and demonstrated. There were many positive responses, and the following companies were visited in succession: JVC, Sony, Pioneer, Hitachi, and MEI (Matsushita). The DAD (Digital Audio Disc Committee) was also visited. The Japanese Ministry of Industry and Trade had assigned DAD the task to evaluate various digital audio disc systems that were being developed and to recommend a world standard.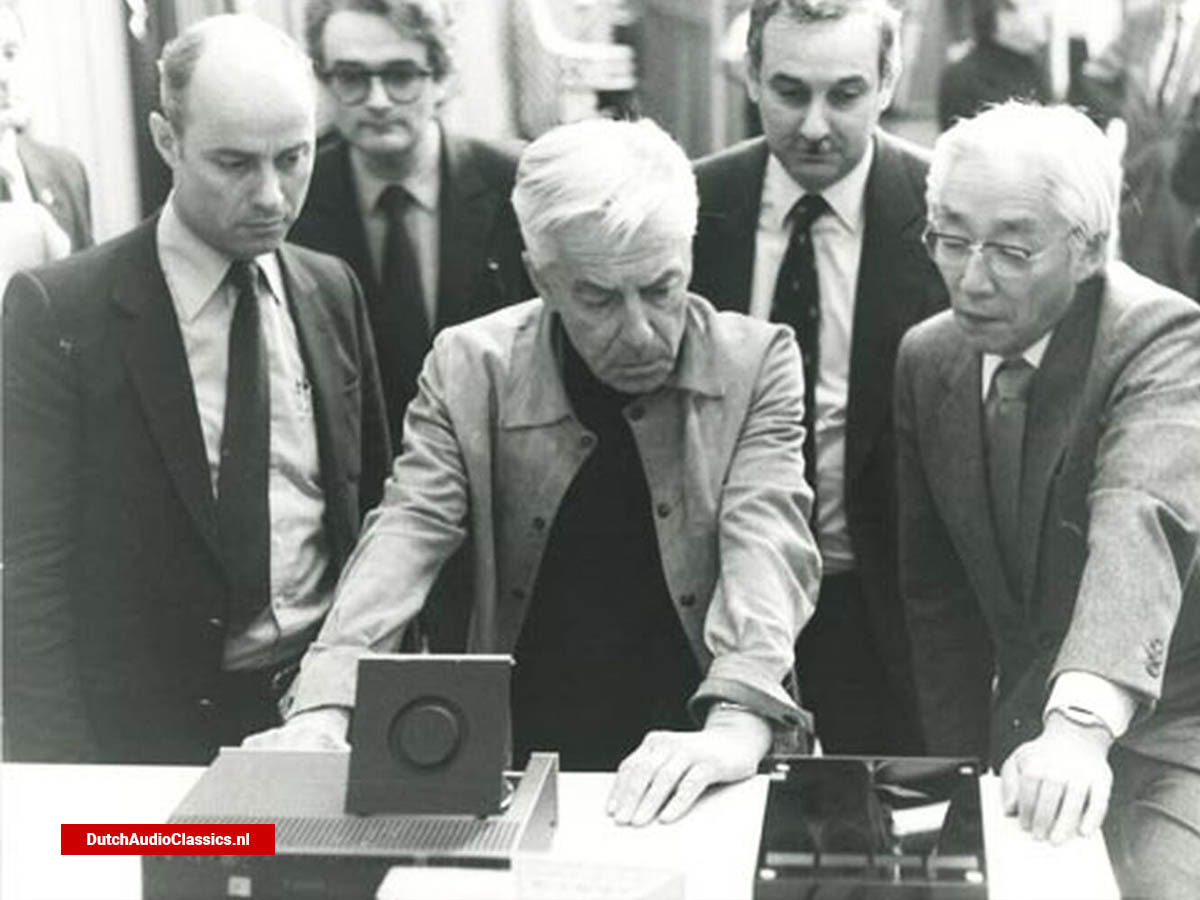 From left to right: Joop Sinjou, Herbert von Karajan, Akio Morita
Cooperation with Sony
On the last day of their visit, J. van Tilburg received a phone call from A. Morita, the chairman of Sony. Morita said that, after consulting the management of Sony, he had decided to cooperate with Philips. Soon, the vice chairman of Sony, N. Ohga, would come to Eindhoven to discuss the contract. Sony was an ideal partner for Philips. It not only had an excellent position in products related to digital recording of audio on magnetic tape, but had also developed a prototype optical digital audio player and disc.
Establishing a common standard
To establish a common standard for the CD system, Philips and Sony agreed to a sequence of meetings to be held alternately in Eindhoven and Tokyo. During these meetings, the technical experts from Philips and Sony worked out issues including the playing time of a disc, its diameter, the audio sampling frequency, the signal quantization (bits per sample), and the signal format to be used. The signal format specifies the purpose of each bit in a recorded frame on a disc.
Philips and Sony agreement
To fix the signal format, Philips and Sony also had to agree on the modulation code and error correction code to be used. It turned out that these latter two issues would require the most time to settle. The reason for this is likely that the Philips-Sony team was informed about several decades of communications theory and practice; thus, there was a large variety of options from which to choose.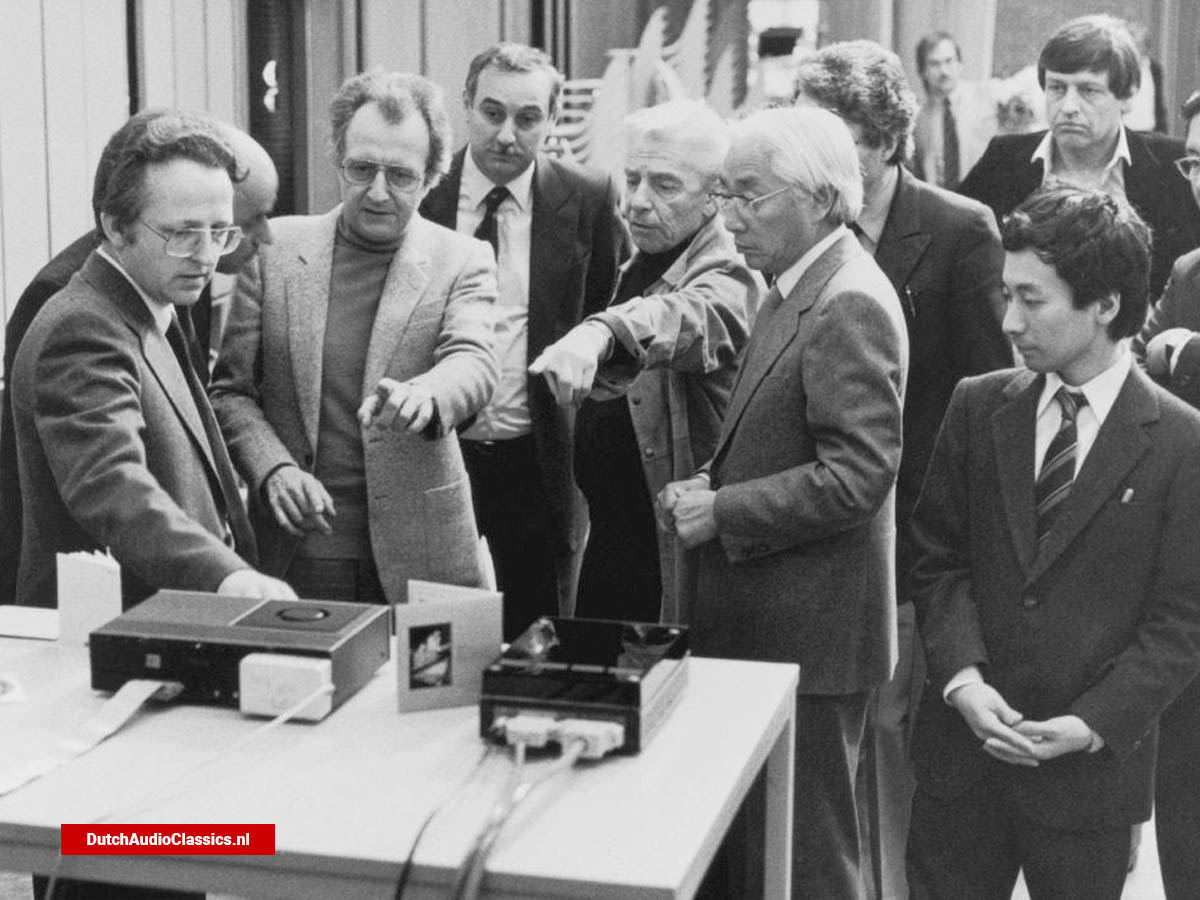 From left to right: Hans Mons, Herbert von Karajan, Akio Morita
Different proposals
A period of intense discussions, correspondence, computer simulations, and performance measurements of discs followed. At the first of six meetings, on August 27 and 28, 1979 in Eindhoven, the two companies had different proposals not only for error correction but also for modulation coding. Finally, Philips and Sony established the final error correction and modulation codes. The standard for error correction was called "cross interleaved Reed Solomon code" (CIRC), whereas the standard for modulation coding was called "eight-tofourteen modulation" (EFM). The last meeting in Tokyo was on June 17 and 18, 1980.
Test unit
DutchAudioClassics is proud to have obtained photos of a test unit which Philips used to perform tests in order to finalize the Compact Disc format.
This test unit contains the full signal path: the high frequency signal coming from the photodiode (which generates an electrical signal when the laser of the cdmechanism hits a 'land') first was sent through a filter, followed by the EFM demodulator (card DEM), then through the error correction (cards C11, C12, C2B, RAM), the interpolation and mute filter (card DOC INT and DOC MUT), followd by the D/A converter.
Test unit prototype compact disc player
During the meetings with Sony, Philips used a newly developed prototype compact disc player. The appareance of this prototype differed from the Pinkeltje prototype. Philips also used this prototype in public demonstrations.
Historic value in the Compact Disc story
As this test unit played a significant role in establishing an agreement on the signal format, it has great historic value in the Compact Disc story. A very exiting period, and therefor we hope you will enjoy these photos!
Many thanks to Hans Mons for providing technical details of this test unit.